There seems to be a new trend in furniture of having chairs that are deconstructed. Rather than perfectly upholstered pieces, we're seeing chairs that look as though they are waiting for the next step in the upholstery process. I'm honestly not sure how I feel about the look. Part of me loves the pretty (aka expensive) Restoration Hardware chairs, but some make me feel like the trend has gone too far.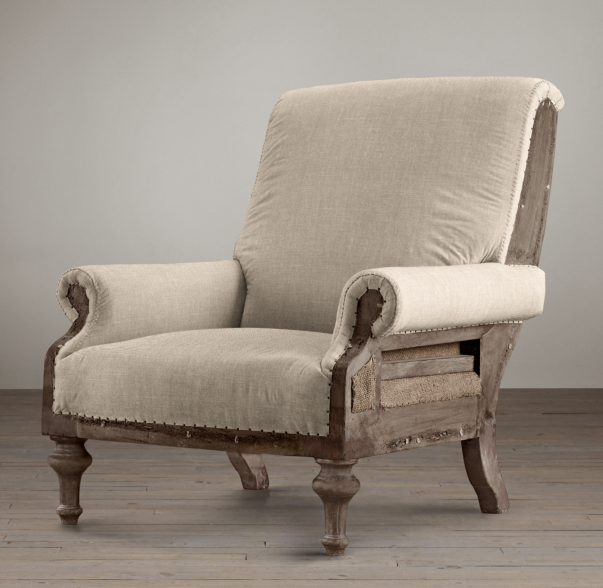 It is a trend that has been around for awhile but has just started making its way into our home decor in the past couple of years. I've been seeing more and more of them popping up on Pinterest and
Liz Marie
recently shared her "new" old chair sparking my internal debate as to whether or not this is a look I can go for.
Deconstructed furniture looks like the upholstery was ripped right off the frame. The frame of the chair or couch is still fully intact, but everything that makes furniture pretty like fabric and trim is missing. Sometimes there is batting sticking out. A back could be covered in upholstery webbing. You may see the strings from a tufted chair sticking out the couch. The upholstery tacks, normally covered up by trim, may be exposed.
Some deconstructed pieces are that way because they are antiques and have actually been torn apart or worn over the years. Now, for the past few years, companies like Restoration Hardware have been reproducing this look and reminding us that the frame and simplicity of furniture can be as pretty as a finished piece.
/ Belle Maison Francaise /
And then there are some pieces that just go too far.....
I'm not sure if this is a look that is going to stick around or be one that we look back on in a few years and wonder what we were thinking. What is your opinion? Is this a style that you'd use in your home?