Heavy snow last weekend slowed down
progress at the project house
, but I was able to do a little work there later in the week that I'll be sharing in an upcoming post. Some good has been uncovered and some not so good, which is what can be expected with a house that is over 100 years old. I also made my first big purchase of the project that I'm excited to show you.
Today, however, I'm here to share some of my favorite posts that I've seen this week across blogland. As much as I love creating, designing, and planning, I also enjoy seeing what everyone else is doing as well. It makes me happy to share some of my favorite bloggers and friends with you.
If you have anything that you think reader's of anderson + grant would enjoy seeing, feel free to
send me an email
or a
message on Facebook
for a chance to possibly be featured in an upcoming post.
As a courtesy the bloggers featured here, please visit the links to their posts below to pin rather than pinning directly from here. Thank you!
---
While I prefer real flowers and plants in the house, it isn't always realistic or possible.....especially if you have the same problem that I do where you tend to forget those living things need water. If I'm going to add in a faux blossom, it needs to look as real as possible. Would you believe that these beyond
beautiful carnations are handmade with crepe paper
? You can learn all about them on
Lia Griffith's website
and be sure to browse around at all the other creative craft projects she has available.
Unless you are a complete minimalist, it is impossible to have all the decor that you own and love out at one time. It is important to have an organized way to store that excess so that you can change things out seasonally or as the spirit moves you. Nothing is more frustrating when you want to redecorate than when you can't find what you want to use because it is buried underneath what you're not looking for. Liz from Love Grows Wild shared the
best tips for organizing and storing all of your home decor
in a beautiful way.
And if you're not going to follow Liz's tips for organizing that decor, then you likely will need
built ins like these from Liz Marie Blog
to display everything. Completely in love with how she styled everything on these open shelves and the look of the sliding ladder.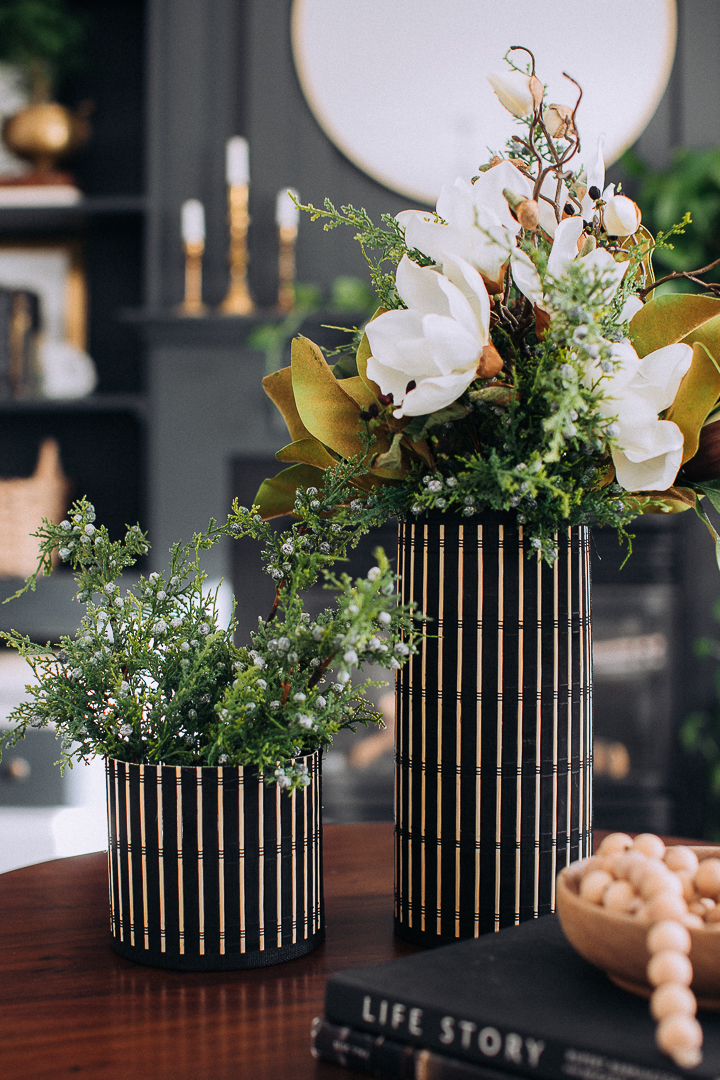 I love any DIY project that doesn't
look
like a DIY project, if you know what I mean. And of all the bloggers out there, I would say that Lucy from Craftberry Bush is one of the best at coming up with creative ideas that look like what you'd pick up off the shelf at Target or Pottery Barn. This
African basket inspired vase
was made using dollar store supplies and took less than 5 minutes. I'll take them both, please!
I've never been to Trader Joe's (life I a rural area!), but Michael from Inspired by Charm has shared a copycat recipe for their

Pancake Bread

that looks absolutely mouthwatering. I plan on trying it this weekend, but I'm not sure whether it needs butter or syrup or both as he shows in this picture. What is your opinion?

In other links.....

| The

kitchen in this home

is giving me ideas for my own future renovations.

| These style sessions

have me wishing I lived way closer to California. I can only imagine how much you could learn about decorating and styling from this woman's experience.

| Completely in love with

the lights in this entryway

.....and the door....and the floor.

| Got any scraps of wood and old belts lying around? This is

a genius idea

for marrying the two into something useful.

| Have you been watching Marie Kondo's videos on Netflix? That seems to be the question of the month. And also seems to have people cleaning out and organizing their possessions. If you have a desire to be a

minimalist BUT still keep your collections

, then this post from my friend Jamie is a must read for you.

| We all have our own share of internal struggles and feelings of being stuck and uncertain. This is a

thoughtfully written article

about who we need to be telling about this if we really want to see a way out.....and I saw the link to this two days in a row in different places so I'm taking it as a sign it was something I needed to read.

SHARE THIS POST

As the month of January is drawing to a close soon (isn't that almost hard to believe!?!), I can honestly say that the year has gotten off to a good start. I hope that you can feel the same. Winter is never a good season for most people in terms of mood and motivation, but I'm trying my best to push through that and actually get some things accomplished and move forward.